Graham Lambkin & Joe McPhee – The Wolf Has Come Down From The North 7″
£10.00
This record of absurd, delirious sound poetry, drawn primarily from the voices of Graham Lambkin and Joe McPhee, marks their first vinyl release as a duo. It was published in 2018 in an edition of 270 regular copies and 30 copies with handmade art.
"The Wolf Has Come Down From The North" b/w "Soppysyrup"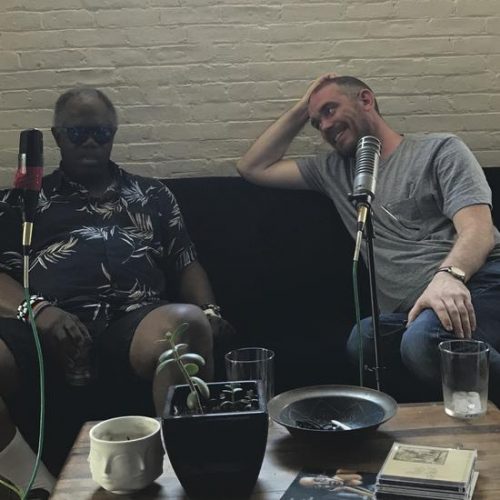 Joe McPhee has been a deeply emotional composer, improviser, and multi-instrumentalist since his emergence on the creative jazz and new music scenes in the late 60s. Inspired by the music of Albert Ayler, he taught himself the saxophone and proceeded to cut two records that remain defining monuments to the civil rights era: the out free jazz of Underground Railroad and avant-funk of Nation Time. His odyssey since has taken McPhee through Deep Listening collaborations with Pauline Oliveros and countless left field improv sessions both within and way outside of the jazz tradition. Graham Lambkin is a multidisciplinary artist who first came to prominence in the early 90s through the formation of his experimental music group The Shadow Ring. A sound organizer rather than music maker, Lambkin looks at an everyday object and sees an ocean of possibility, continually transforming quotidian atmospheres and the mundane into expressive sound art using tape manipulation techniques, chance operations and the thick ambience of domestic field recordings.
In 1993 one of the chief concerns of Graham Lambkin's then fledgling Shadow Ring was to emulate, on a cheap Casio keyboard, the electronic textures of '70s Joe McPhee collaborator John Snyder's ARP synthesizer. Twenty-two years later Lambkin and McPhee recorded their "Chance Meeting" album using chimes, whistle, pocket synthesizer, tape, Baoding balls and other objects. That and subsequent recordings such as this one are marked by the jovial spirit and wry humor that characterizes their collaborative dynamic, both in performance and friendship.
The Wolf Has Come Down from the North by Graham Lambkin & Joe McPhee
In stock