Henning Christiansen – PENTHESILEA 2LP / 5CD Bundle
£65.00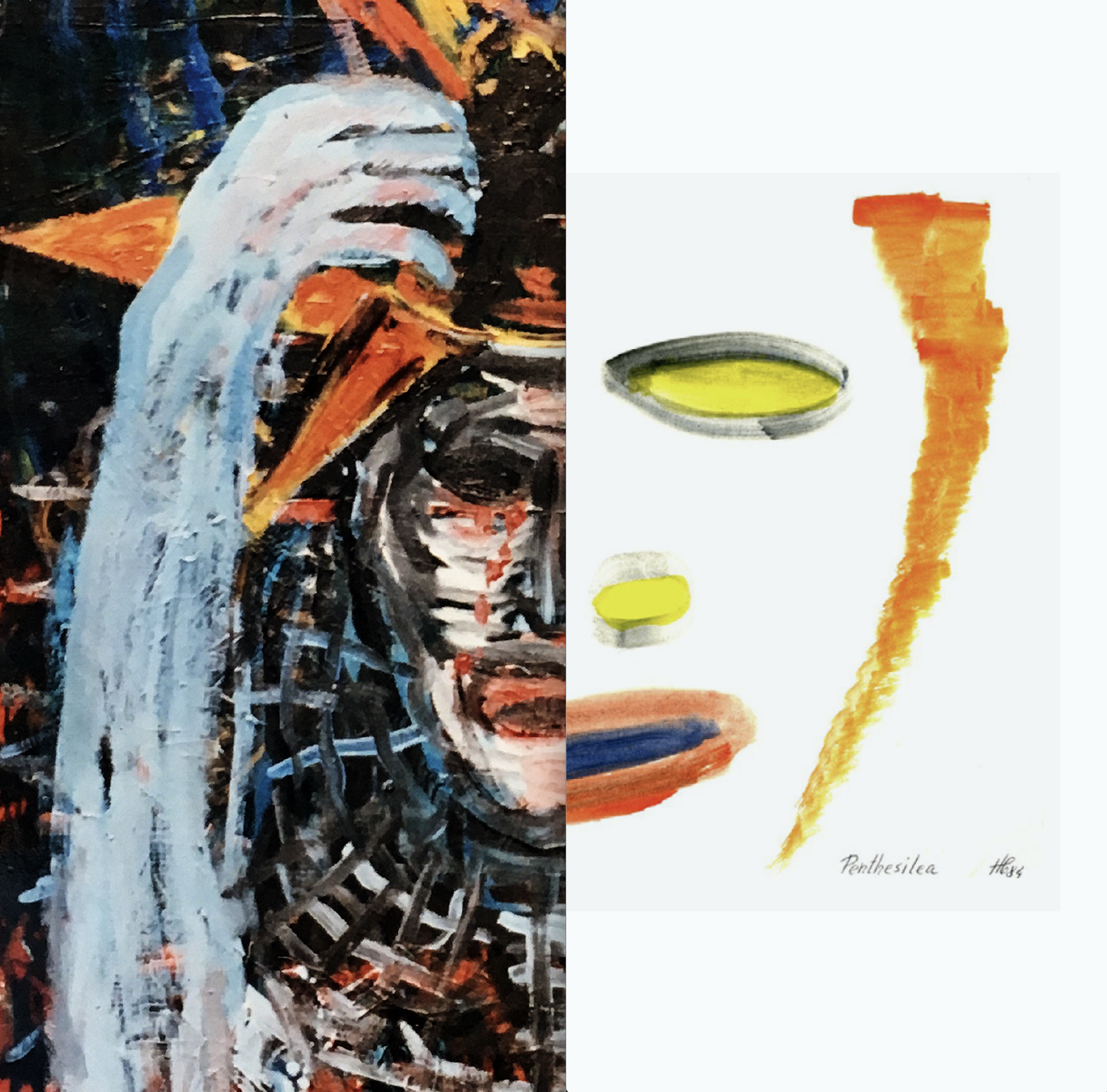 Bundle of both HC4 2LP and HC5 5CD set. Note we will ship out the 2LP immediately and the 5CD set when that lands.
A previously unreleased project of Henning Christiansen, monumental in scope, traversing years, countries and now, formats. The Henning Christiansen Archive is proud to finally present one of the crown jewels of the archive, the masterpiece 'Penthesilea' as a 2LP and 5CD set. Both limited to 300 copies.
Pentheseila is one of the most ambitious works in the entire Henning Christiansen oeuvre. A large-scale work from the mid eighties based on the play of the same name by Heinrich von Kleist (1808).  Both Henning and his widow, Ursula Reuter Christiansen, were enthusiastic about Kleist's text, both making works around the themes within this portent text.
Henning Christiansen first developed a work around this text for the Rosenfest festival performed in Berlin in 1984. Rosenfest was curated by René Block and featured a variety of composers presenting works in response to Kleist's work including Robert Ashley,  "Blue" Gene Tyranny etc. Henning formulated a composition utilising tape, field recordings, voice, soprano, and violoncello alongside the home made instruments of Werner Durand.
The live presentation was then expanded upon and first performed two years later at Teatro Olímpico, Rome on the 8th November 1986 as directed by Carlo Quartucci. The two releases presented here include a 2 x vinyl LP of the Rosenfest recordings in 1984 and a 5CD set sharing the four and a half hour backing track prepared for the Teatro Olímpico performance in Rome in 1986. Together these two releases make up a substantial overview of one of the most significant works in the entire Christiansen canon.
HC4 Henning Christiansen – Op. 163 PENTHESILEA THE REALITY IS A GHOST IN MY MIND / IN PENTHESILEAS HÖHLE (IN PENTHESILEA'S CAVE) 2LP / Digital
Beautiful, haunting and sombre, this 2LP presents the entire recording from Henning Christiansen's Heinrich von Kleist tribute at Rene Block's Rosenfest festival, Berlin, 1984.
THE REALITY IS A GHOST IN MY MIND (LP1)  is a work that unfolds patiently with a mix of field recordings; wind, bird song and the sound of snow being crushed underfoot all unite in a foreboding atmosphere. IN PENTHESILEAS HÖHLE (LP2) features electronic treatments to the original field recordings found on THE REALITY IS A GHOST IN MY MIND, a representation of psychological reorientation perhaps? A deep ground tone (or ROOT as Henning calls it) leads the listener through a variety of realistic and unrealistic environments. As Henning says in his essay reprinted on the back sleeve:
"Then comes a section where the field recordings of the sea, the storm, birds, cars and other things, are built together so that the realism of these sounds become unreal. For example the cars drive into the sea and the birds are singing within the storm. When you hear footsteps in the show, it's Kleist sneaking past Deutsche Schauspielhaus. When you hear a deep, human sleeping noise, it's Achilles sleeping. When you hear hammering it's the weapon smith working. When you hear a stone being thrown it means the unanswered question: "Who threw the first stone?"
These recordings lead to the finale where Carla Tatò's haunted vocals into her singing mournfully along with Jan Tilman Schade's violoncello and tuba, then a chainsaw appears.
Presented in a deluxe di-cut sleeve with writings by Ursula Reuter Christiansen and Henning  Christiansen and adorned with an artwork, Penthesilea by Ursula Reuter Christiansen, 1983
* Small excerpts  of these works previously appeared on one of the 7"s in the Rosenfest Berlin 1984 catalogue (Berliner Künstlerprogramm des DAAD ) and the compilation CD Ghosts And Monsters: Technology And Personality In Contemporary Music (Leonardo Music Journal / Electronic Music Foundation 1999).
HC5 Henning Christiansen – OP.176 PENTHESILEA Digital / 5CD set
This four and a half hour audio work heavily expands on the foundation laid out for Rosenfest in 1984 as featured on the HC4 2LP release. This lavish 5CD set presents the full backing tape prepared for the performances at Teatro Olímpico, Rome in 1986 as directed by Carlo Quartucci (the live recordings of the performances remain elusive to this day).
The most ambitious project Henning undertook, the Penthesilea project is also one of the most successful as it explores  the numerous experiments and techniques he had developed throughout his creative life culminating in this ambitious and significant work. Unheard until now and required listening now.
The full narrative of Kleists text unfolds as an audio excursion for the mind to wander. An audiobook presented as sound. The field recordings featured in Rosenfest recordings are featured alongside a wealth of new sonic environments. Horses trot, a boxing match is treated with electronics creating an otherworldly atmosphere. In the piece 'XIII XIV' we encounter moments of Henning's early classical works only to subside in a valley of gentle machines clacking amongst a whispering ghost melody. Elsewhere a thumping proto-techno beat tramples on the once trampled snow we heard in the Rosenfest recordings, a rustic squeak acts as a horn solo, onwards, the wind gets fiercer, the narrative intensifies…
OP.176 PENTHESILEA is presented as a deluxe 5CD box set with 32 page full colour booklet featuring writings by Villy Sørensen, Mark Harwood, Werner Durand and Henning Christiansen. The set is all housed in a sturdy slip case with original artwork (by Henning Christiansen, scores and performance photos.
All material copyright The Henning Christiansen Archive with the exception of the watercolour paintings.
In stock