Księżyc – Rabbit Eclipse LP
£16.00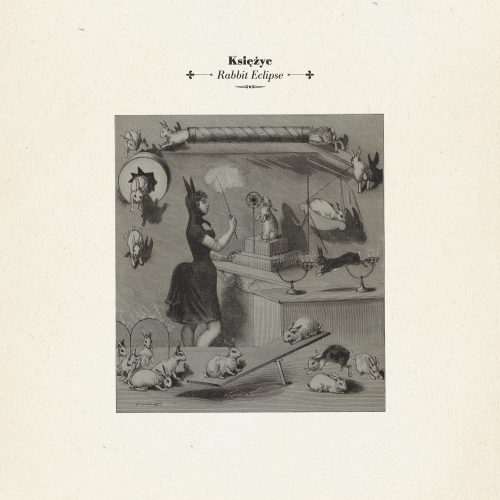 Deluxe 180 gram vinyl version on reverse board card with printed inner sleeve.
Rabbit Eclipse is the second full-length recording from the legendary Księżyc following on from their self titled debut from 1996.
The Moon never went away.
The 2013 the Penultimate Press re-issue of Księżyc's timeless debut exposed the band to a large new audience resulting in a return to live performance and the subsequent development of new material.
Rabbit Eclipse was recorded in Warsaw throughout May to September 2015 within the idyllic Palladian palace Królikarnia (The Rabbit House). All original members gathered to conjure the peculiar hybrid of the the ancient and the contemporary unique to the band.
With more expanded forms, Rabbit Eclipse presents a rich and subtle environment of beguiling narratives hanging in suspended tension. This opens up an entire new phase in the cycle of the band where an enchanting discrete musical continuum of rich and subtle sound excursions are enveloped in a mysterious melancholia.
Rabbit Eclipse is another exemplary presentation from one of Poland's most idiosyncratic and respected outfits.
Line up:
Agata Harz – vocals, objects
Katarzyna Smoluk-Moczydłowska – vocals, keyboards, objects
Lechosław Polak – accordion, keyboards, synthesizers
Remigiusz Mazur Hanaj – tapes, hurdy-gurdy, violin
Robert Niziński – clarinet, keyboards, objects
Paweł Romańczuk – Fidel, Stössel-Laute, objects
Track listing:
Side A
1. Kapkowa
2. Mglista
3. Flażoletowa
Side B
4. Walczyk III
5. Syreny
Made with assistance from the Polish Cultural Institute, London.
Out of stock