Lo Escucho, Lo Pinto – Lo Escucho, Lo Pinto LP
£22.00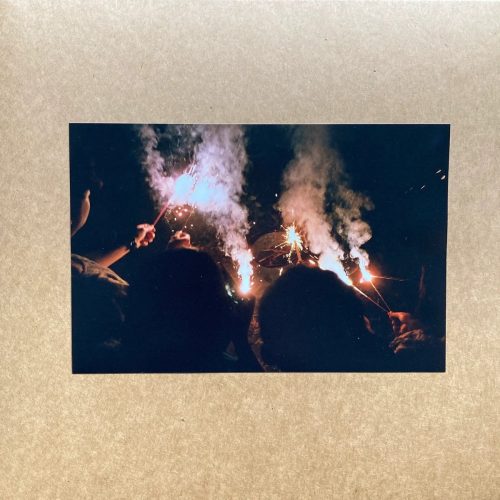 Deep and immersive open-air Chilean trance-folk improvisations from members of KYE records alumni Glorias Navales and Sholto Dobie – Lo Escucho, Lo Pinto.  Highly Recommended!
The idea of applying free-music logic to rock structures came of age with the records the Dead C and Harry Pussy put out on Xpressway and Siltbreeze in the 90s. They created a method to follow. Keep the tropes and tools of rock and roll but ditch the formal constraints. All you are left with then is the space between the instruments as somewhere to begin. The buzz of open strings and the rattle of drum hardware might lead anywhere. But, for me it is that feeling of space created that appeals, a private world filled with a private language. Of course, Improv has developed its own tropes and the path of free rock/free folk has become a well trodden one. That being said, I'm always on the look out for records that open up that magical space. Back in 2016 the Glorias Navales record on Graham Lambkin's KYE Records was a mini masterpiece of this approach. It boiled the bones of classic two-chord Velvets strum and thump to create an LP of open ended late-night minimalism. On their new record for our shop's own label they work a different magic, this time joined by Lithuainia-based improviser Sholto Dobie.  Essentially a road record, Lo Escucho, Lo Pinto captures the group's travels in early 2022 throughout Chile.  Moving between between Los Ángeles, Huepil, Concepción and Santiago, the group are captured performing in public places (parks, squares, in the street) without advertising or any paid audiences.  The murmurs of the general public, children playing and barking of stray dogs float within the recordings, whilst the group ruminate on their country's folklore traditions, pagism and the art of being in the moment.  Music of the land, the soil and of memories.  It is glorious to imagine them arriving somewhere, setting up and slowly beginning to play this elegant restrained and thoroughly disorientating music. I am reminded of the intuitive DIY folk of Charalambides, Marcia Bassett's UN or the rural rock meets La Monte Young sound of International Harvester. But don't get too hung up on comparisons, just dive in. This is a truly beautiful record and one to get lost in for years…
Comes with A3 colour poster – limited 300 copies.
In stock